(To view the images described in the article click on the link. A new window will open. To continue reading simply close the window.)
The first impression of Jim Janknegt's paintings is one of vivid color and playfulness. That's a good impression to remember as you delve into what's beneath the surface. Take time to look and reflect and you'll understand this quote of Walker Percy:
"Art tells people something they already know but don't know that they now it.'
Let's see. If you are familiar with art history you'll detect a colorful mix of influences from painters as diverse as Marc Chagall, New Mexico folk artists, Henri Rousseau, the Cubists, Pierre Bonnard, Stuart Davis, Stanley Spencer and Byzantine icons. But Jim gives equal status to everyday stuff-he is showing us that the sacred is found in the secular. Here and now. Look for things found in your own home: a guitar, a Lazy Boy recliner, barbed wire, watermelon, TV lipstick, garden hose, potted cactus, toy soldiers. These items are props for the retelling of familiar Bible stories. Jim honors our suburban, rural and urban environment as contemporary settings for timeless truths. In other words, it is not so much "What would Jesus do?" as "What does Jesus do?"
Jim has embarked upon a series of paintings of the parables; several are here at Laity Lodge. He says,"Jesus used everyday imagery in his parables, not overt religious symbols. The beauty of the parables is located in their ambiguity; he leaves them open-ended. Each generation needs artists who are willing to translate his imagery so that the stories can be 'owned' again." The three paintings of the Treasurefield deal with the parable of the kingdom in Matthew 13:44.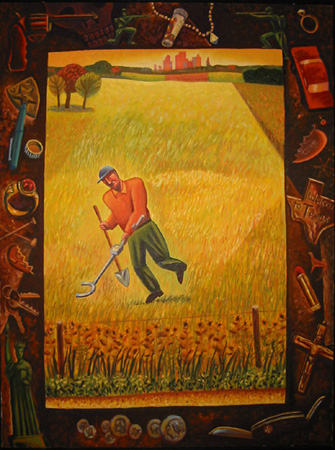 --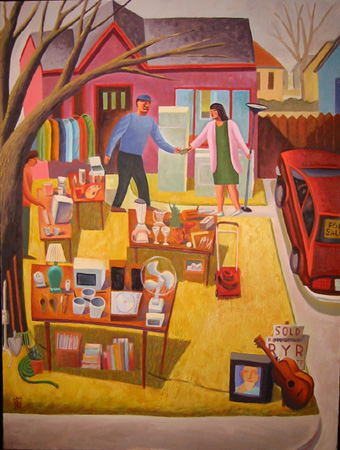 --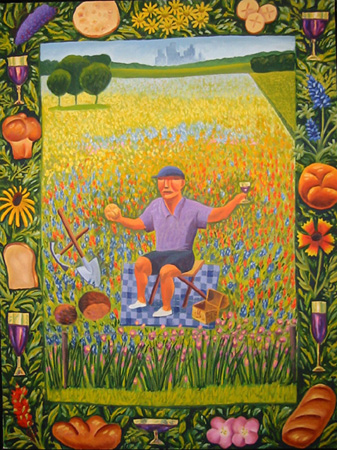 In autumn, a man finds a treasure with a metal detector. That winter he sells everything he has at a garage sale. Finally, spring comes and he buys the same field as in the first painting, and sits in it rejoicing. Note the symbols of treasure, possessions, and eucharist. This is classic Janknegt-we've been given a three-fold relationship to engage with: there's the Bible story, the artist visual interpretation, and the story form our own experience that we, the viewers bring to the painting. A dialogue is established, and we are part of it. What questions are the paintings prompting in you?
Modern agriculture illustrates the parable of Grain & Weeds. The farmer in the gimme cap stares at us, daring us to decide who he is- the bad guy who seeded the thistle in the wheat, or the one questioning whether or not to pull them up. Is he one of us?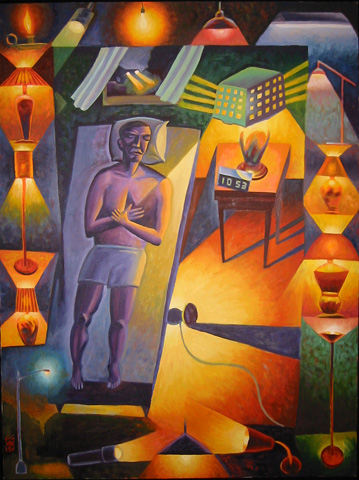 Locate the painting called Hidden Light. What's going on with this sleeping guy, surrounded by all sorts of modern lamps and lights? Has he hidden his light under a contemporary bushel? Is he one of us?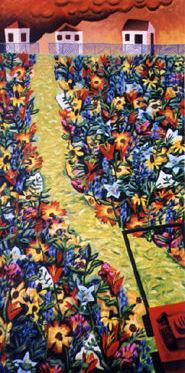 What about that skinny scene, Wild Flowers? Looks merely pretty, until you notice the background and what the lawn mower has just done. Who are the flowers of the field/ Try Isaiah 40:6-8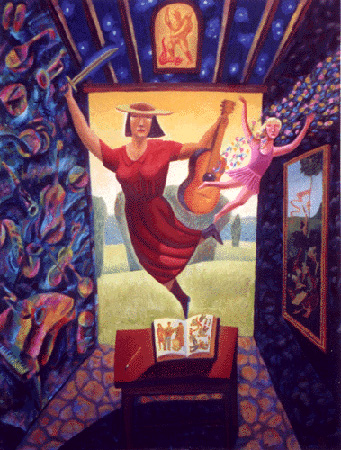 Jim also offers us a rich stew of celebration and conviction and sometimes the line between the two is difficult to discern. This is an important function of art-to disarm you enough to look beyond your own comfort. Lissa & Emma shows his wife and child as musicians, joyfully floating into the scene yet bearing stern allusion to a story in Chronicles when the musicians were sent out to confuse enemies in battle. The enemies became so thrown off by the music that they attacked each other instead. It is a good allegory for the power of the arts. Below the figures an open book show the battle. The painting is divided to reveal the choice between good and evil.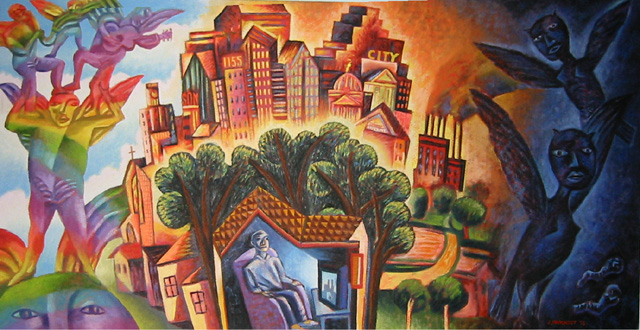 This dichotomy is addressed in other Janknegt paintings. In Light & Dark Angels, all sorts of battles are raging, but the guy in his chair watching TV is tuned out. A similar composition serves the largest painting, Two Gardens.

Eden is easily recognizable with its famous naked pair.. but figure out the garden on the right. Notice who is at the gate of each garden. Jim says he likes cities, but in this painting, the chaos of the city makes an impersonal maze, a trap. How does that image server the two gardens?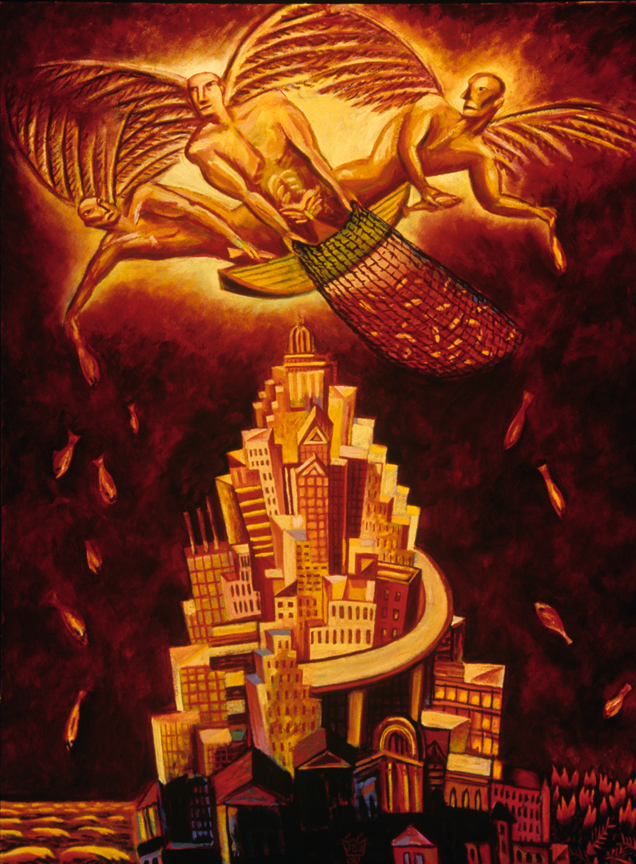 In the painting called The Net the city looks like the Tower of Babel. Here angels separate good and bad fish.
Jim's work is clearly informed by his Christian faith and his life struggles. He and his family are members of St. David's Episcopal in Austin. They live in rural Elgin where he paints and Lissa teaches children's art classes. Jim works at UT, as Operations Manager for the Bass Performing Arts Center. (Note- Since this article was written Jim has converted to the Catholic Church and is currently working at the Harry Ransom Center.)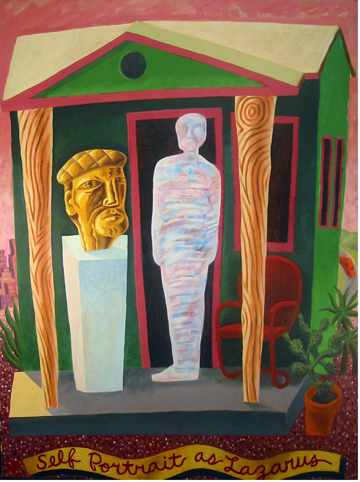 Jim says the most personal painting shown here is Self Portrait as Lazarus. This is obviously before Lazarus was raised, symbolizing a time when Jim was in a "spiritual desert". He identifies himself in there twice-as the dead mummified Lazarus and as the golden head on a pedestal. In this stinging self critique, he has become his own idol, an obstacle to spiritual growth.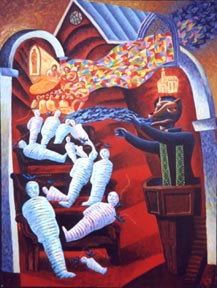 Another indictment is aimed at false teaching in the church. In The Prophet (false) harpy birds distort music and a wolf in sheep's clothing spews distorted phrases over a congregation of passive, mummified listeners.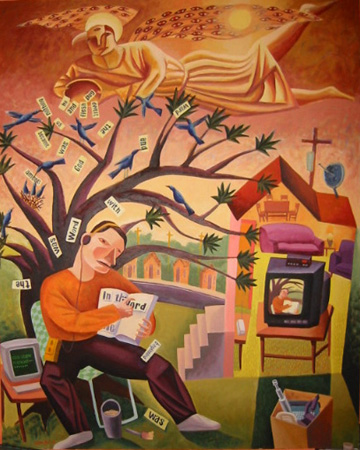 Words and our tendency to idolize them is expressed in the large picture, St. John Reconsiders Modern Epistomology. This is the earliest of the paintings in the exhibition, and its thesis underlies Jim's subsequent work. Reading Walker Percy's theory of language at the time, Jim began to understand how our own perception taints communication, and how greater truth may be found beyond literal interpretations. He plants St. John in a lawn chair, glueing heaven-sent words into a book. Those mean blue-black birds appear again, trying to steal the words. St. John is surrounded by communication devices- a walkman, a satellite dish, computers. A live television newscast shows St. John at work, but he's been stripped of important details. How does the constant barrage of media, of words and images, affect what we know?
Go back to your initial impression of playfulness and color. It is still valid-these paintings function well solely as an aesthetic statement, and that is good. Within that visual impression, though let these paintings ask you anew that all-important question of faith: where's the line between law and love/ and how do we perceive it?