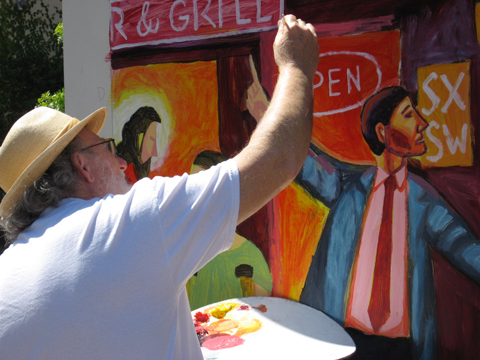 James Janknegt started painting murals when he was in his teens. He painted several murals for the old Well Coffeehouse, which was located behind the Jack in the Box off Guadalupe on 26th St. He also painted a mural for the Logos bookstore that once resided in Dobie Mall.

James competed in an Art in Public Places contest for the Austin Convention Center. He was a finalist but did not become a winner. If anyone ever wants to realize this mural, he would be happy to comply.

More recently he painted a 20' mural in the religious education building of Sacred Heart Catholic Church in Elgin.

In 2013 he participated in "The Wall Project" that took place during SXSW in downtown Austin. He designed a 12'x8' mural that was painted on a moveable panel set up in the parking lot of a restaurant. The project is well documented here.

in 2014 James designed a 10'x11' mural for the Christ the Reconciler retreat center in Elgin TX.

If you have a need or an idea for a mural get in contact with James. He is always looking for a big wall to paint on. email him at: Jim@bcartfarm.com
Click the images below to see full size murals.